Google Classroom
https://www.gov.uk/government/publications/coronavirus-covid-19-keeping-children-safe-online/coronavirus-covid-19-support-for-parents-and-carers-to-keep-children-safe-online
FOR OUR PARENT REMOTE LEARNING REVIEW, PLEASE CLICK HERE: https://forms.gle/i5HVgrbcVxozwZ8U9
To access Google Classroom go to: classroom.google.com
For a reminder of how to stay safe online go to our e-safety page
To access the French powerpoints to download with sound go to: French Powerpoints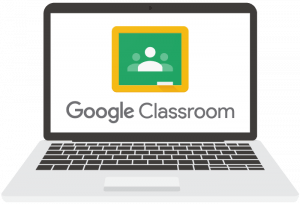 Following the government guidelines, which come into place on Thursday 22nd October, the Department for Education expects schools to be able to immediately offer children access to remote education. To align with this, we have subscribed to Google Classroom, a platform where teachers can set assignments to be completed at home. On this page there is lots of information regarding how to use Google Classroom.
If you have any issues, please infom your child's class teacher. Thank you for your cooperation.
Weekly Guidance Tables
Please see the weekly guidance tables for each class by downloading them below. They are also on the individual class pages for you to view.
Below is a quick guide to Google Classroom. Please read this for all the information regarding logging in and using the platform.
Extra Online Learning
For a range of extra resources to support or further your Online Learning please view our Other Resources page, under the Curriculum tab.
Google Meet
Each class will have the opportunity to have a Google Meet with their teacher on Wednesdays.
For information on how to access the Google Meet please click HERE.
Please could all the children read the Google Meet Rules before joining so they know what is going to be expected of them to ensure it is running smoothly.
Class Timings for Google Meet:
Wednesdays
St Andrew: 10:15- 10:30
St Bernadette: 11:15-11:30
St Catherine: 2:00-2:15
St Dominic: 1:20-1:35
St Edward: 9:15-9:30
St Elizabeth: 9:45- 10:00
St Francis: 2:35-2:50
St George: 10:45-11:00